Copies of The Tale of Gondolin were printed in 1994, however, they were bound on demand as sales went along. By the end of 1995, 28 of the 50 copies were sold. Technically, these copies should be referred to as "First State" of the second edition. First state books bound have been confirmed to be copies numbered 1-25 and 31-33 inclusively.
It wasn't until 2004, that the remaining copies were bound. Since the original book binder had passed away, Alex Lewis had the remaining copies hand bound by another book binder in Manchester. The binding was done in 2004. These copies are referred to as the "Second State" of the second edition. Books bound include copies numbered 26-30 and 34-50 inclusively. 'First State' and 'Second State' books were NOT issued with a dustjacket, slipcase or clam-shell case.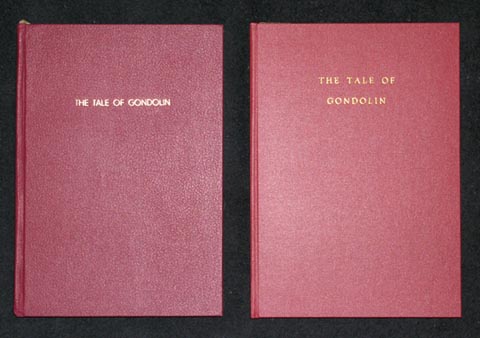 1) First and Second State books were bound by a different binder, so the construction of the book covers are quite different. The 'First State' book, pictured on the left, has a coarse, almost artificial leather look and feel to it. The front and back boards are thick and sturdy. The 'Second State' book pictured on the right, has red cloth over thin front and back boards.
2) The gold-gilt title on the cover of 'First State' book is in one continuous line. The 'Second State' book breaks the title into two lines.