First Impression copy of the 2004 HarperCollins Deluxe Edition published to celebrate the 50th Anniversary of
The Lord of the Rings.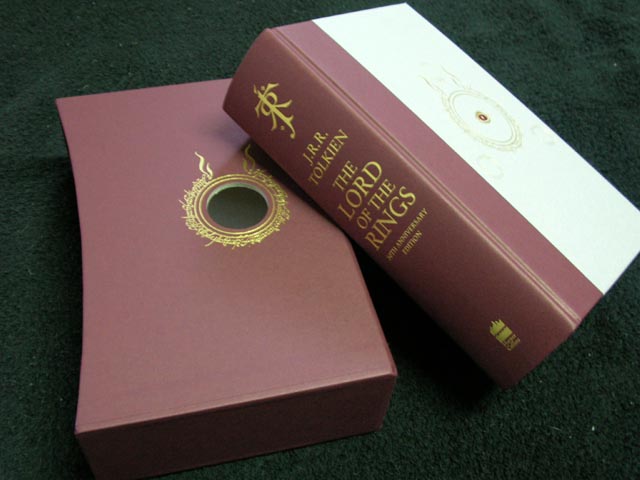 THE LORD OF THE RINGS
2004 UK DELUXE EDITION
This deluxe cased volume contains the complete text, fully corrected and reset, and features for the very first time the pages from the Book of Mazarbul, illustrations done by Tolkien and intended for inclusion in the famous 'Bridge of Khazad-dum' chapter. Also appearing, TWO fold-out maps of Middle-earth, and for the first time are TWO additional Hobbit family trees and a revised & updated index.
Published by HarperCollins Publishers, London 2004.
FIRST PRINTING, ISBN 0 00 718236 8;
Limited Edition Print run size of just 3000 copies!!!
NEW and in mint condition!
Sympathetically packaged to reflect the classic look of the original, this gorgeous book presents the LOTR with each of its six original "books" and appendices bound into one. Quarter -bound in red, stamped in red and gold foil on grey boards, and housed in a matching slipcase! This brand new volume will prove irresistible to collectors and new fans alike. Absolutely stunning!
*** SOLD OUT ***